The Herbivory Variability Network has completed 336 surveys on 261 plant species from 90 plant families. These figures and tables update as new data are entered into our database, so check back often!
We have a three-scaled sampling approach:
Sampling one plant species from as many plant families as possible
Sampling as many species (and tribes and genera) as possible from five focal families (Apocynaceae, Asteraceae, Fabaceae, Rubiaceae, and Solanaceae)
Sampling as many sites as possible for three focal species (Taraxacum officinale, Plantago lanceolata, and Plantago major).
The goal of this stratified sampling plan is to avoid potential biases in geographic and/or taxonomic coverage, as well as to permit robust exploration of factors that shape patterns in herbivory.
Below we show the current status of our sampling for each of the three scales of sampling, our overall geographic extent, and finally our current plant species list. This information is here to share our progress and help collaborators pick sites and species to survey.
Sampling across plant families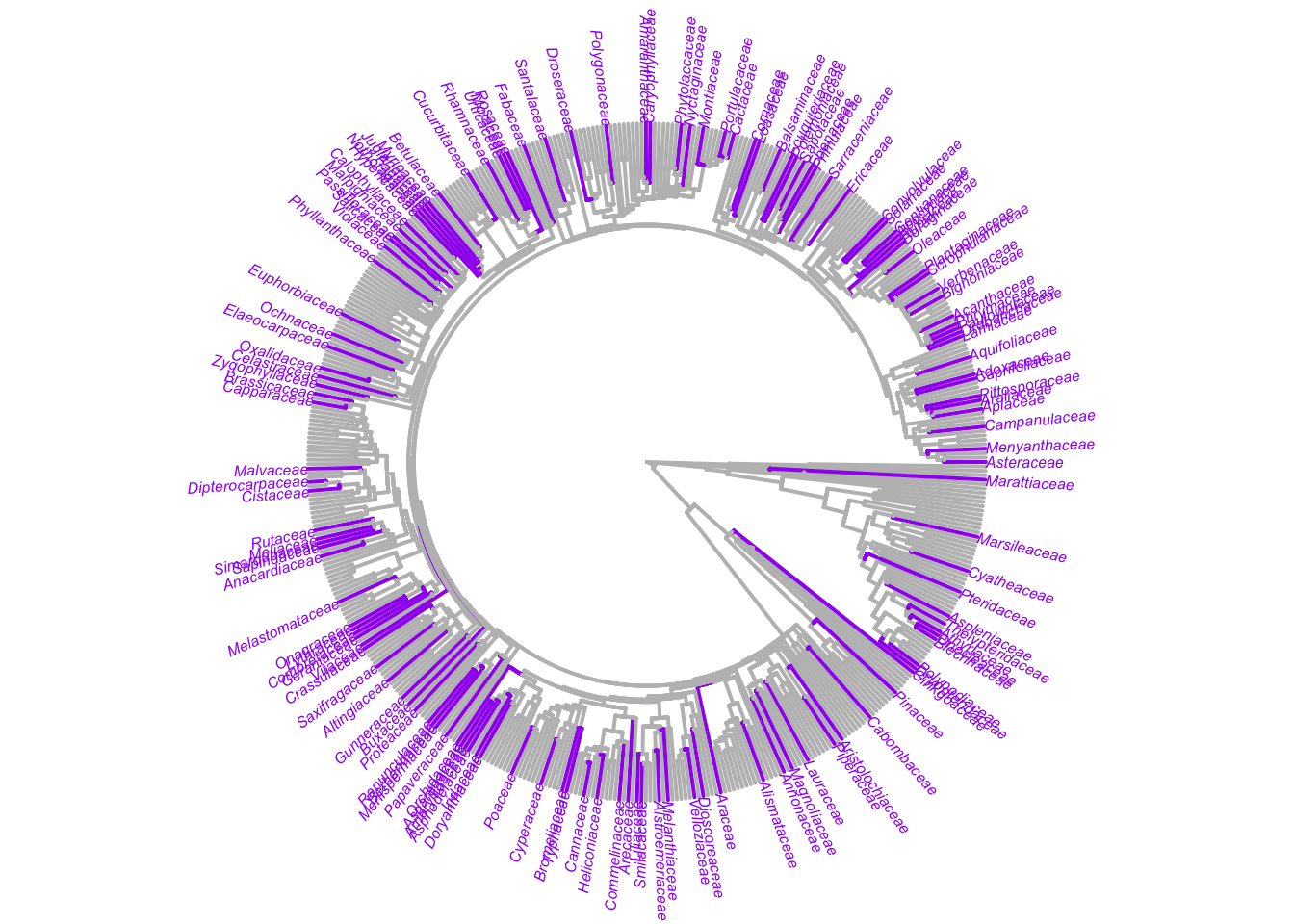 Sampling within plant families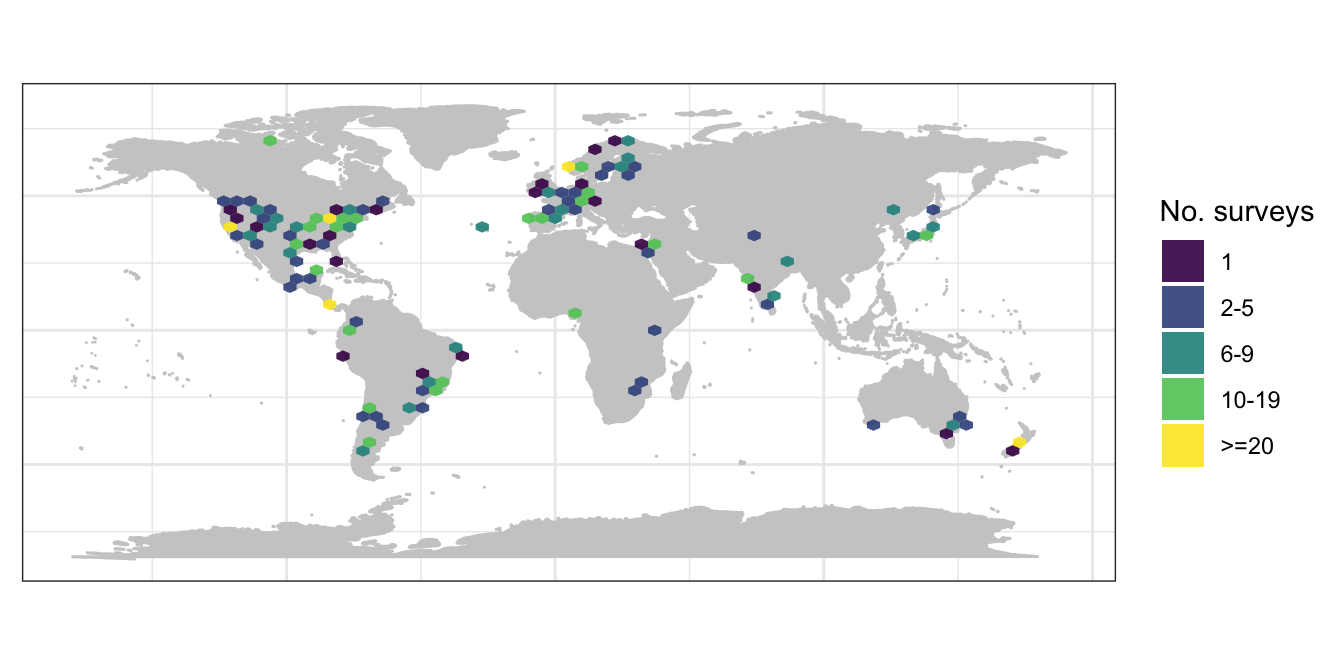 Sampling within focal species
We have three focal species that we are aiming to sampling across the broadest possible geographic extent and across broad environmental gradients. These are Taraxacum officinale, Plantago lanceolata, and Plantago major. This is the newest part of our sampling effort, so we are just starting to collect these data.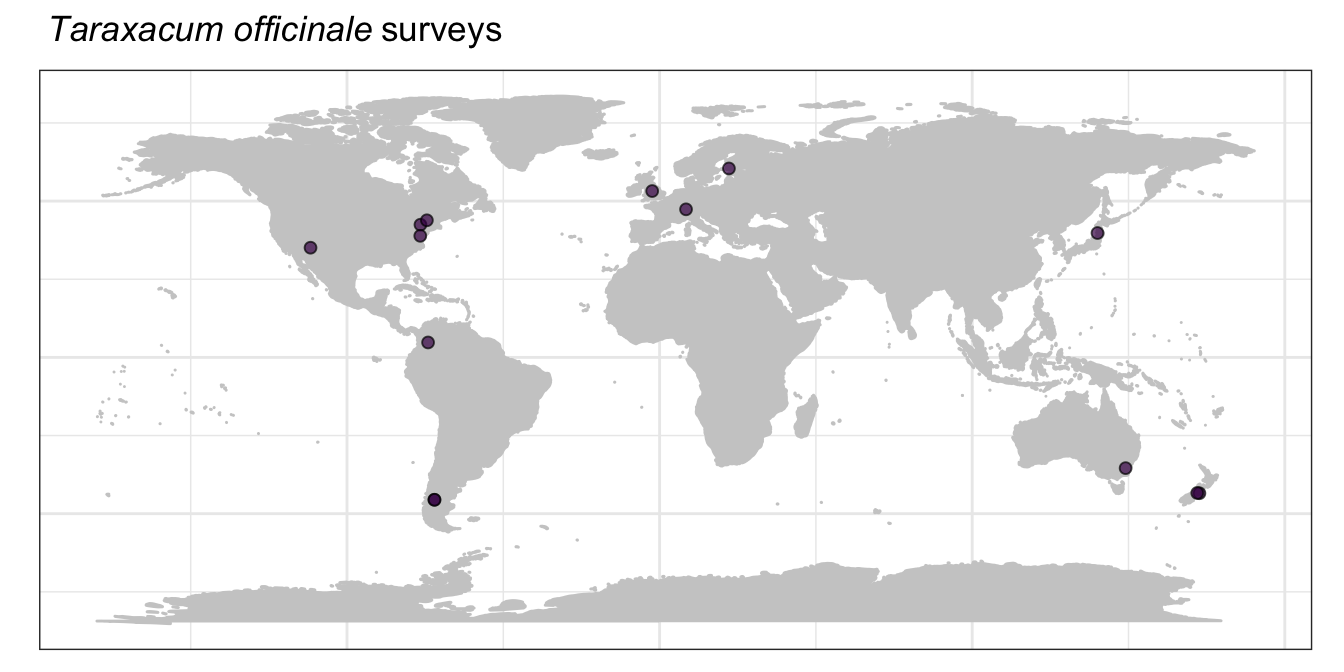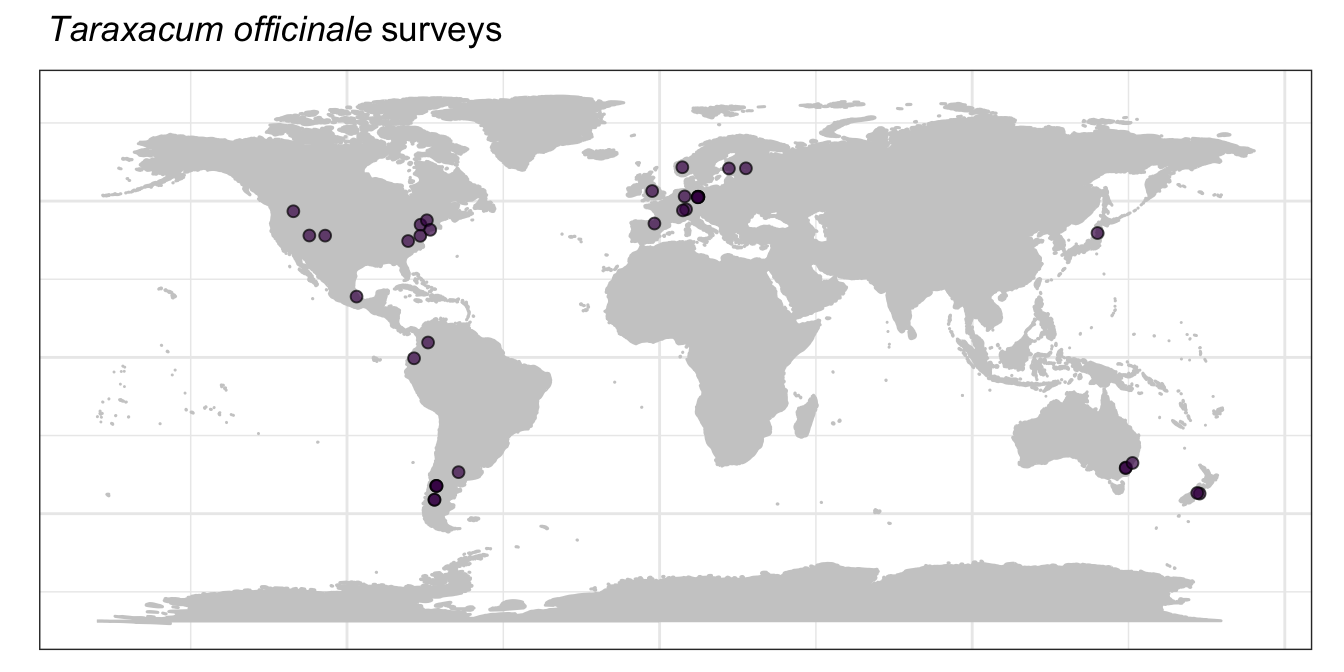 Geographic extent
A map of our sampling progress.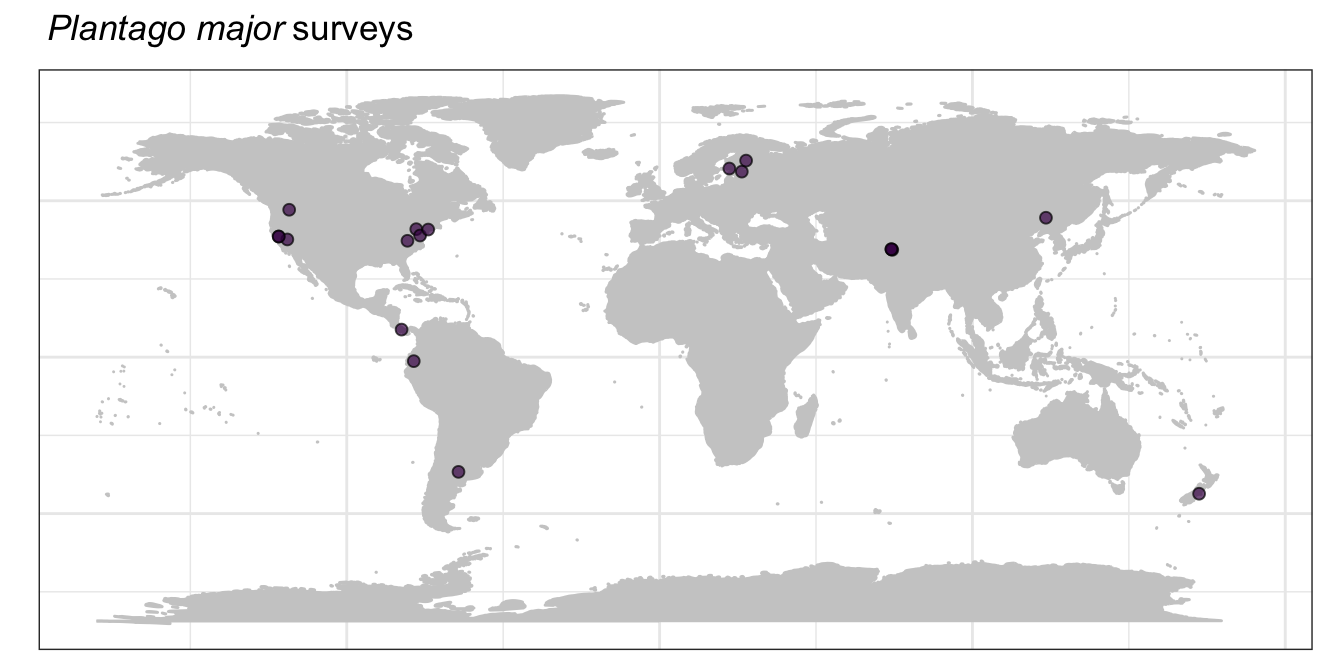 Species list
Our current species list with the number of surveys completed for each species.
| | |
| --- | --- |
| Abronia latifolia | 1 |
| Abutilon theophrasti | 1 |
| Acacia dealbata | 1 |
| Acacia implexa | 1 |
| Acer campestre | 1 |
| Acer saccharum | 1 |
| Adesmia boronioides | 1 |
| Adiantum pedatum | 1 |
| Aesculus parviflora | 1 |
| Ageratina altissima | 1 |
| Agrimonia eupatoria | 1 |
| Alcea rosea | 1 |
| Alliaria petiolata | 1 |
| Alnus acuminata | 1 |
| Amsinckia menziesii | 1 |
| Anemone coronaria | 3 |
| Anthemis galiale | 1 |
| Aotus genistoides | 1 |
| Apocynum androsaemifolium | 1 |
| Apocynum cannabinum | 1 |
| Arabidopsis halleri | 4 |
| Aralia nudicaulis | 1 |
| Arctium minus | 2 |
| Arctostaphylos pungens | 1 |
| Argemone mexicana | 1 |
| Arisaema triphyllum | 1 |
| Artemisia mongolica | 1 |
| Artemisia sp | 2 |
| Artemisia tridentata | 1 |
| Asarum canadense | 1 |
| Asclepias cryptoceras | 1 |
| Asclepias syriaca | 4 |
| Asclepias tuberosa | 1 |
| Asplenium platyneuron | 1 |
| Azadirachta indica | 1 |
| Balsamorhiza sagittata | 3 |
| Bauhinia brevipes | 1 |
| Bidens frondosa | 1 |
| Bidens triplinerva | 1 |
| Bocconia frutescens | 1 |
| Bomarea chiriquina | 1 |
| Bouteloua gracilis | 1 |
| Brasenia schreberi | 1 |
| Brassica oleracea | 1 |
| Bridelia crenulata | 1 |
| Buxus sempervirens | 1 |
| Calotropis procera | 1 |
| Campanula persicifolia | 1 |
| Capparis erythrocarpos | 1 |
| Carpinus caroliniana | 1 |
| Castanea sativa | 5 |
| Catalpa speciosa | 1 |
| Cecropia pachystachya | 1 |
| Celmisia discolor | 1 |
| Celmisia spectabilis | 1 |
| Cephalanthus occidentalis | 1 |
| Cercis canadensis | 1 |
| Chamaecrista fasciculata | 1 |
| Chamaedorea costaricana | 1 |
| Chamaenerion angustifolium | 1 |
| Chenopodium album | 2 |
| Chimaphila umbellata | 1 |
| Circaea canadensis | 1 |
| Circaea lutetiana | 1 |
| Cirsium arvense | 1 |
| Cissus vitiginea | 1 |
| Claytonia virginica | 1 |
| Clidemia heterophylla | 1 |
| Clintonia borealis | 1 |
| Coccoloba cereifera | 1 |
| Coccoloba uvifera | 2 |
| Coffea arabica | 1 |
| Conoclinium coelestinum | 1 |
| Cornus disciflora | 1 |
| Croton capitatus | 1 |
| Croton sp | 1 |
| Cryptantha cinerea | 1 |
| Cucurbita foetidissima | 1 |
| Cyperus esculentus | 1 |
| Desmodium gangeticum | 1 |
| Desmodium glutinosum | 1 |
| Desmodium podocarpum | 1 |
| Desmodium procumbens | 1 |
| Dioscorea racemosa | 1 |
| Diplotaxis erucoides | 1 |
| Drosera rotundifolia | 1 |
| Dudleya farinosa | 1 |
| Echinacea purpurea | 2 |
| Enemion biternatum | 1 |
| Erigeron strigosus | 1 |
| Erodium crassifolium | 1 |
| Erythrochiton brasiliensis | 1 |
| Eschscholzia californica | 1 |
| Eurybia macrophylla | 1 |
| Fagus grandifolia | 1 |
| Fagus sylvatica | 2 |
| Fouquieria splendens | 1 |
| Frasera speciosa | 1 |
| Fraxinus nigra | 1 |
| Gentianella bellidifolia | 1 |
| Geranium pratense | 1 |
| Glycine max | 1 |
| Gomphocarpus fructicosus | 1 |
| Goodyera ovatilabia | 1 |
| Gossypium hirsutum | 3 |
| Grindelia squarrosa | 3 |
| Gunnera tinctoria | 2 |
| Helianthella quinquenervis | 2 |
| Heliotropium indicum | 1 |
| Heracleum mantegazzianum | 1 |
| Heracleum nepalense | 1 |
| Heracleum sphondylium | 1 |
| Hypochaeris radicata | 1 |
| Ilex aquifolium | 1 |
| Impatiens capensis | 1 |
| Ipomoea lindenii | 1 |
| Ipomoea nil | 1 |
| Iris atrofusca | 1 |
| Iris atropurpurea | 2 |
| Iris haynei | 1 |
| Iris petrana | 1 |
| Ixeridium dentatum | 1 |
| Jessea multivenia | 1 |
| Juglans nigra | 1 |
| Jungia ferruginea | 1 |
| Kalimeris integrifolia | 1 |
| Lantana camara | 2 |
| Lathyrus quinquenervius | 1 |
| Latrobea pinnacula | 1 |
| Liquidambar styraciflua | 1 |
| Liriodendron tulipifera | 1 |
| Lomelosia prolifera | 1 |
| Lupinus arboreus | 1 |
| Lupinus perennis | 1 |
| Lupinus pilosus | 1 |
| Lupinus polyphyllus | 1 |
| Lupinus sericeus | 2 |
| Lysimachia borealis | 1 |
| Madhuca longifolia | 1 |
| Maianthemum canadense | 1 |
| Maianthemum gigas | 1 |
| Maianthemum racemosum | 1 |
| Medicago polymorpha | 1 |
| Melampyrum pratsense | 1 |
| Melhania ovata | 1 |
| Melilotus albus | 1 |
| Mimulus guttatus | 1 |
| Mimulus verbanaceus | 1 |
| Monarda fistulosa | 3 |
| Monarda punctata | 1 |
| Montigena novae-zelandiae | 1 |
| Morinda pubescens | 1 |
| Munnozia pinnatipartita | 1 |
| Myrica faya | 1 |
| Myrrhidendron donnellsmithii | 1 |
| Nectandra lineata | 1 |
| Nicotiana attenuata | 1 |
| Onoclea sensibilis | 1 |
| Opuntia cespitosa | 1 |
| Opuntia engelmanii | 1 |
| Panax trifolius | 1 |
| Pascopyrum smithii | 1 |
| Passiflora apetala | 1 |
| Pastinaca sativa | 2 |
| Persoonia micranthera | 1 |
| Phaseolus lunatus | 1 |
| Physalis heterophylla | 1 |
| Physalis longifolia | 1 |
| Phytolacca americana | 1 |
| Phytolacca rivinoides | 1 |
| Pilea pumila | 1 |
| Pilea vulcanica | 1 |
| Piper kelleyi | 1 |
| Piper sp1 | 1 |
| Piper sp2 | 1 |
| Piper umbellatum | 1 |
| Plantago asiatica | 2 |
| Plantago depressa | 1 |
| Plantago lanceolata | 6 |
| Plantago major | 6 |
| Podophyllum peltatum | 2 |
| Polygonatum biflorum | 1 |
| Potentilla gracilis | 1 |
| Potentilla recta | 1 |
| Potentilla simplex | 1 |
| Prosopis velutina | 1 |
| Psychotria aubletiana | 1 |
| Ptelea trifoliata | 1 |
| Pulicaria dysenterica | 1 |
| Quercus alba | 1 |
| Quercus garryana | 1 |
| Quercus insignis | 1 |
| Quercus robur | 2 |
| Ranunculus haastii | 1 |
| Ranunculus paucifolius | 1 |
| Raoulia eximia | 1 |
| Raphanus raphanistrum | 1 |
| Ratibida pinnata | 1 |
| Rhus copallinum | 1 |
| Ricinus communis | 1 |
| Roystonea regia | 1 |
| Rubus chamaemorus | 1 |
| Rudbeckia hirta | 1 |
| Rudbeckia laciniata | 1 |
| Ruellia nudiflora | 3 |
| Ruellia tuberosa | 1 |
| Rumex crispus | 2 |
| Rumex japonicus | 4 |
| Rumex obtusifolius | 1 |
| Salix herbacea | 1 |
| Salvia pratensis | 1 |
| Sanguinaria canadensis | 1 |
| Sanicula liberta | 1 |
| Sarracenia purpurea | 1 |
| Sassafras albidum | 2 |
| Senecio madagascariensis | 1 |
| Sisyrinchium tinctorium | 1 |
| Smilax hispida | 1 |
| Smilax sp | 1 |
| Solanum carolinense | 4 |
| Solanum cinereum | 1 |
| Solanum donianum | 3 |
| Solanum incanum | 1 |
| Solanum lycocarpum | 1 |
| Solanum nigrum | 1 |
| Solanum ptychanthum | 1 |
| Solanum sp | 1 |
| Solanum tridynamum | 3 |
| Solidago altissima | 5 |
| Solidago canadensis/altissima | 1 |
| Solidago missouriensis | 1 |
| Solidago speciosa | 1 |
| Sphaeralcea coccinea | 1 |
| Stellaria roughii | 1 |
| Swietenia macrothylla | 1 |
| Taraxacum officinale | 11 |
| Thymus vulgaris | 1 |
| Tilia americana | 1 |
| Tradescantia fluminensis | 1 |
| Tradescantia ohiensis | 1 |
| Tradescantia zanonia | 1 |
| Tragopogon dubius | 1 |
| Trembleya laniflora | 1 |
| Trifolium repens | 1 |
| Urera baccifera | 1 |
| Verbascum lychnitis | 1 |
| Verbascum thapsus | 1 |
| Verbena hastata | 1 |
| Vernonia baldwinii | 1 |
| Vicia sativa | 1 |
| Vincetoxicum hirundinaria | 1 |
| Viola pubescens | 1 |
| Viscum album | 1 |
| Vriesea platynema | 1 |
| Waltheria indica | 3 |
| Wisteria floribunda | 1 |
| Wyethia mollis | 1 |
| Zanthoxylum melanosticum | 1 |
| Zea mays | 1 |
| Zizia aurea | 1 |
| Zygophyllum dumosum | 1 |